WHEYCAKES
We created Wheycakes™ with pure whey isolate, egg white protein, and whole grain oat flour as a tasty alternative to traditional mixes. One serving of WheyCakes™ packs up to 6 times more protein, fewer than half the carbs, and up to 80% less sugar.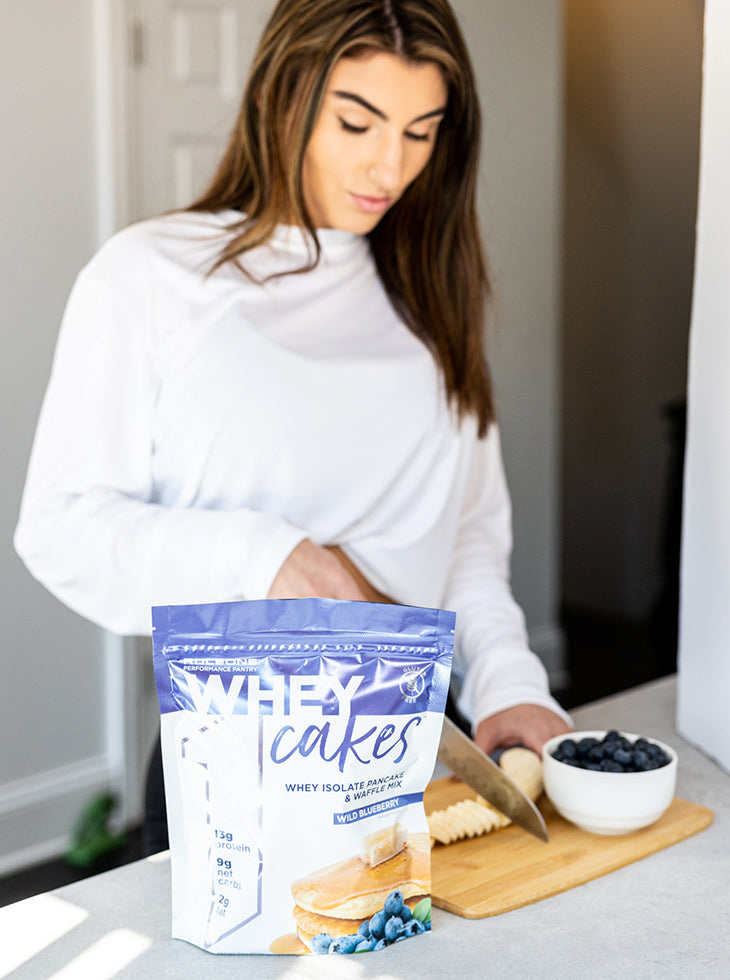 "The whey cakes have a great nutrition profile and are easy to travel with."
- Delaney
R1
Wheycakes
WHAT IT IS
Whey Better Pancakes
Wheycakes™ is a nutritionally enhanced pancake/waffle mix featuring more protein and less carbs and sugars than traditional buttermilk pancake mixes.
WHAT'S IN IT
Protein Pancakes
Available in flavors like Classic Buttermilk, Wild Blueberry, and Chocolate Fudge, Wheycakes™ are an excellent source of high-quality protein with considerably fewer carbs and sugars than typical pancakes.
13-14g complete protein†
Superior whey isolate and egg white protein sources
Whole grain, gluten-free oat flour
Packed with naturally-occurring BCAAs
Makes great-tasting protein pancakes or waffles
ZERO Gluten
ZERO Trans Fat
ZERO Banned Substances
ZERO Taste Sacrifice
† Per serving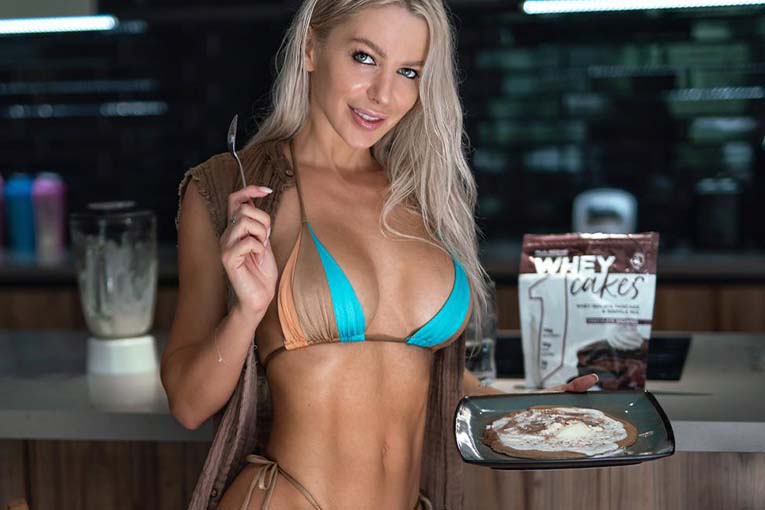 HOW TO USE IT
Mealtime
Easy to prepare and ready in minutes, for a quick, nutritious breakfast or any time meal.
Directions: Light & Fluffy Pancakes
1. Apply a generous amount of cooking spray, oil, or butter to a large non-stick pan and heat over medium flame (375° on an electric griddle) until a drop of water sizzles and immediately disappears.
2. While pan is warming, add one (1) scoop Wheycakes™ and 2 oz. water (use slightly more water for thinner pancakes) to a small bowl. Mix with a fork until well combined. Do not overmix! Batter should be slightly lumpy. Let stand for 1-2 minutes to thicken.
3. Pour mixture into hot pan or griddle. Cook until the bubbles on top begin to pop, then flip, and continue to cook until bottom is golden brown (about 1-2 minutes per side).
4. Enjoy immediately, while hot and fresh.
Directions: Hearty Waffles
1. Heat waffle iron.
2. Prepare mix as described above.
3. Pour batter onto waffle iron and cook until golden brown.
4. Enjoy immediately.
OPTIONAL:
Top pancakes or waffles with grass-fed butter, fresh berries, peanut butter, jam, or reduced-sugar syrup.
Pancakes >>>>
This is my favorite favorite favorite product!!!!
Bad
Equivalent to eating blue berry flavored Styrofoam.
Great buttermilk taste
They tasted as good as normal mix. The instructions say to use 2 ounces of water but I used an egg and 1 ounce of milk instead and made a waffle. Although it was delicious, it was thick and dry, hard to swallow without a fluid. I got the Classic Buttermilk flavor and I have not tried 2 ounces of water yet.
Pretty good blueberry
Not bad if you want pancakes. Directions on packet are a little different then on website. Overall will buy them.
Team Blueberry
I would definitely opt for the blueberry flavor if you don't know which to get first !
Frequently Bought Together