Easy Protein Omelet
Seasoned Omelet & Scrambled Egg Mix
We provided as much protein in our Easy Protein Omelet™ as three whole eggs (or 5 egg whites). Easy Protein Omelet™ delivers real, savory egg taste in a portable package that's free of messy shells and virtually effortless to prepare.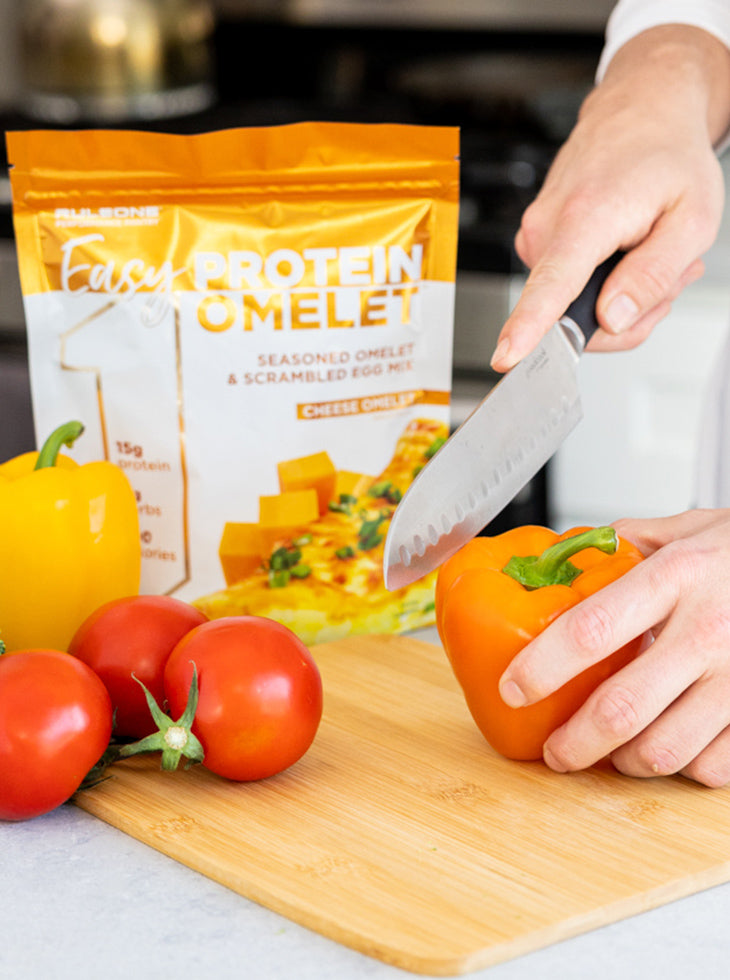 "Love everything, the texture, quality and TASTE! Super easy to make when running short on time for breakfast."
- Nisha
R1
Easy Protein Omelet
WHAT IT IS
Protein-Enhanced Omelets
Easy Protein Omelet™ is a seasoned omelet /scrambled egg mix packed with high biological value (BV) protein.
WHAT'S IN IT
Good Morning Protein!
Savory flavors of Easy Protein Omelet™ include Country Scramble, Chipotle Cheddar, and Cheese Omelet.
15g very high quality protein†
95% less cholesterol than 1 whole egg†
1g medium chain triglyceride (MCT) oil†
Pre-seasoned with natural flavors and spices
Makes great-tasting omelets or scrambled eggs
Long-lasting, shelf-stable*
ZERO Gluten
ZERO Trans Fat
ZERO Messy Shells
ZERO Refrigeration required*
ZERO Taste Sacrifice
ZERO Banned Substances
† Per serving
* Prior to preparation. Treat like fresh, cracked eggs after mixing with water.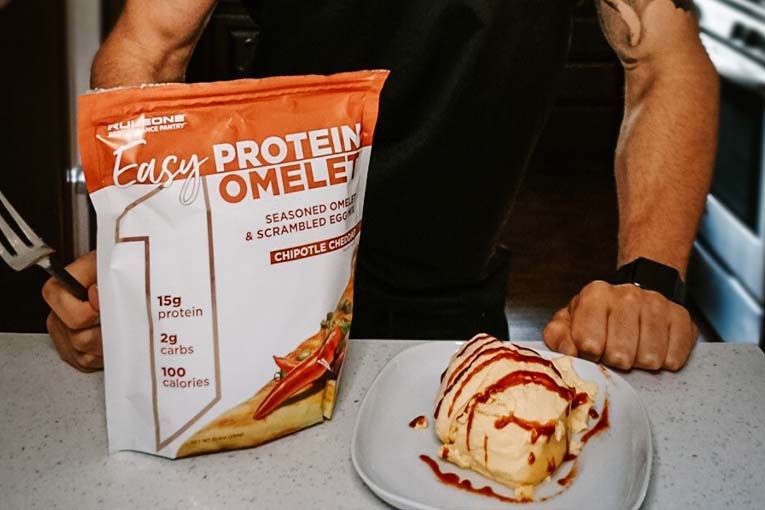 HOW TO USE IT
Mealtime
Easy to prepare. Ready in minutes, for a quick, nutritious breakfast or any time meal.
Omelet Directions:
1. Apply a generous amount of cooking spray, oil, or butter to a large non-stick pan and heat over medium flame (375° on an electric griddle) until a drop of water sizzles and immediately disappears.
2. While pan is warming, add one (1) scoop Easy Protein Omelet™ and 4 oz. water to a small bowl. Whisk vigorously for 30-40 seconds until well combined.
3. Pour mixture into hot pan. It should set immediately around the edges. Using an inverted spatula, gently push cooked egg from the edges to the center, allowing uncooked eggs to reach the heated pan surface.
4. When top surface has thickened, and liquid mix is no longer visible, fold omelet in half, slide it onto a plate, and serve.
Scrambled Eggs Directions:
1. Heat pan and prepare mix as outlined above.
2. Pour mixture into hot pan. As eggs start to set, gently pull the mixture across the pan with an inverted spatula. Continue lifting and folding while cooking until eggs are thick and no longer runny.
3. Remove from heat and serve immediately. OPTIONAL: Top with a dash of hot sauce, freshly chopped herbs, and/or shredded cheese.
LOVING IT!!!
Love everything, the texture, quality and TASTE! Super easy to make which is so convenient when running short on time for breakfast. Doesn't make me bloat which is a huge plus!
Love it
Convenient to use, taste great on taste. I cooked them in microwave but you can also use it on a pan just like I can have it anywhere and prepare it anywhere
Frequently Bought Together