R1 COLLAGEN
Hydrolyzed Collagen Peptides
R1 Collagen is simply made from one superior ingredient. Our grass-fed, pasture-raised bovine hide collagen peptides support hair, skin, nails and joints.
Formula Transparency
One (1) ingredient
NO FILLERS
NO SUGAR
NO STIMULANTS
* These statements have not been evaluated but the FDA. This product is not intended to diagnose, treat, cure, or prevent any disease.
R1 COLLAGEN BETTER INPUTS
Hydrolyzed Collagen Peptides
Bovine Hide Collagen Peptide
10g Collagen per serving
Gluten Free
Dairy Free
Hair, Skin, Nails & Joints
Carefully blended and packaged in an NSF GMP facility in the USA
*These statements have not been evaluated by the Food and Drug Administration. This product is not intended to diagnose, treat, cure or prevent any disease. * Per serving.
Directions
Mix one (1) scoop with 8-10 oz. of your favorite hot or cold beverage.
Warning
Manufactured on equipment that processes products containing milk, soy (lecithin), wheat and egg. STORE IN A COOL, DRY PLACE. KEEP OUT OF REACH OF CHILDREN.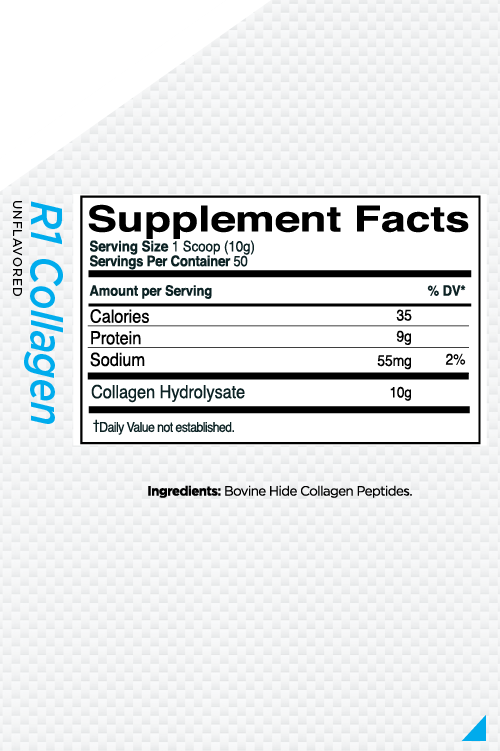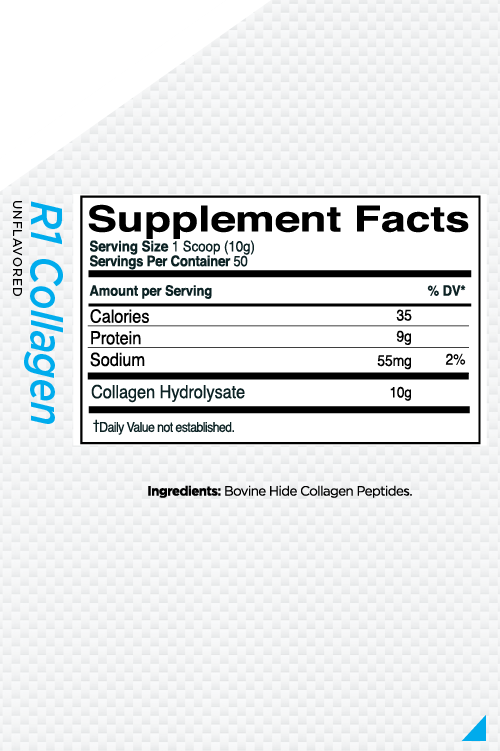 WHAT IS COLLAGEN AND WHAT DOES IT DO?
Collagen is the most abundant protein in the body and is a key constituent of all connective tissues. Collagen provides the infrastructure of the musculoskeletal system, which is essential for mobility. The intake of collagen helps support the cohesion, elasticity and regeneration of skin, hair, tendon, cartilage, bones and joints. If you lack the amino acids that combine to form collagen, your body's cells can't produce enough of it.
WHEN ARE THE BEST TIMES TO USE COLLAGEN?
R1 Collagen can be taken at any time of the day by simply adding to water or your favorite beverage.
HOW MUCH COLLAGEN SHOULD I TAKE?
We recommend 10-20g of collagen per day depending on your age and the condition of your hair, skin, nails and joints. If you are consuming more than 1 serving per day, we suggest separating the dosages rather than taking two or more servings at the same time.
3 Reviews
First thing is noticed is that the bottle was filled to the top. Other companies' products are usually filled up to about 75% of the bottle. Have not been using it for long yet but I won't mix it with water anymore. Two tasteless sources is not a pleasant taste, is weird...

Seems to be working great!

This product is awesome! Mixes easy and tasteless. I have been taking 2 scoops everyday for the past month and already can see some improvements in hair growth. Hopefully I eventually have a full head of hair again!

Like all of the Rules 1 products, this collagen mixes easily. Products that I have tried from other companies tended to leave chunks of powder that would gel and not dissolve. This does not. I just wish the label detailed the collagen as types I, II, or III. That is not mentioned anywhere and it is important information.