R1 GLUTAMINE
Micronized Glutamine Formula
Prolonged bouts of intense exercise don't just drain your energy; they also deplete your body's nutritional reserves and overcome its ability to recover. Case in point: glutamine. Overtraining can cause glutamine levels to drop, impairing performance. R1 Glutamine helps keep levels elevated, without high prices. 5 grams of micronized glutamine for less than 25 cents a serving. One big stressor alleviated. *
Formula Transparency
ZERO Fillers
ZERO Sugars
ZERO Stimulants
ZERO Gums
* These statements have not been evaluated but the FDA. This product is not intended to diagnose, treat, cure, or prevent any disease.
R1 GLUTAMINE BETTER INPUTS
Micronized Glutamine Formula
5 g micronized l-glutamine *
Mixes easily with a spoon or in a shaker cup
Unflavored – add to workout supplements, juices, and protein shakes
Carefully blended and packaged in an NSF GMP facility in the USA
*These statements have not been evaluated by the Food and Drug Administration. This product is not intended to diagnose, treat, cure or prevent any disease. * Per serving.
Directions
Mix one (1) scoop with 6-8 oz. of your favorite cold beverage or protein powder and consume before, during, or after training.
Warning
Manufactured on equipment that processes products containing milk, soy (lecithin), wheat and egg. STORE IN A COOL, DRY PLACE. KEEP OUT OF REACH OF CHILDREN.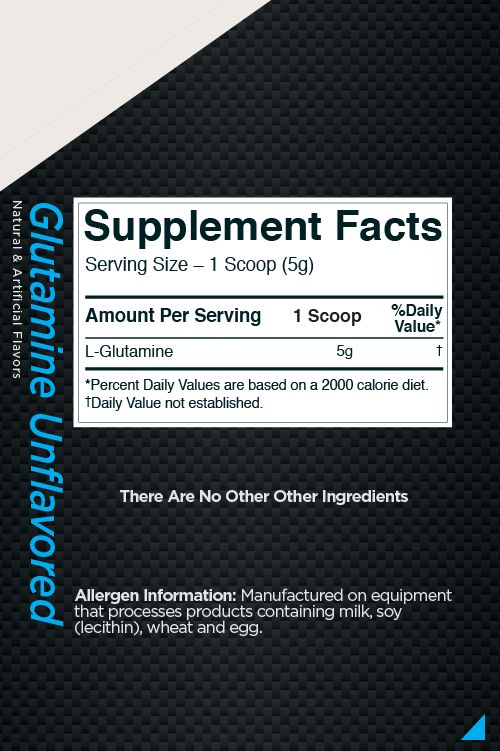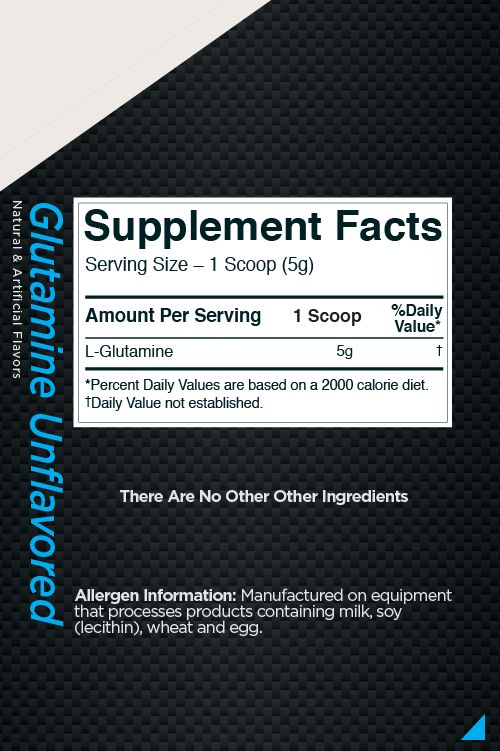 What is glutamine and what does it do?
Glutamine is a conditionally essential amino acid naturally found in high protein foods like milk, beef, fish, soybeans, and eggs. Glutamine is a key energy source for the cells lining the digestive tract -- a key barrier to foreign compounds that can make us ill -- and is believed to support healthy immune function through this mechanism. Glutamine is also thought to increase cell volumizing and blood glucose which could make it an effective companion for creatine.
When are the best times to use glutamine?
During or after workouts.
How much glutamine should I take?
The amount found in a single serving (5 g) of R1 Glutamine is sufficient for most people. If your particular goals or needs dictate higher usage, we suggest separating the dosages rather than taking two or more servings at the same time.
1 Review
I take it with my post workout rule 1 protein shake at night. Felt great in the morning.