R1 Fruits & Greens
Superfood & Antioxidant Complex
We packed R1 Fruits & Greens™ + Antioxidants with highly concentrated vegetables, fruits, herbs, digestive enzymes, and vitamins A & C. Naturally flavored and lightly sweetened with stevia, R1 Fruits & Greens™ + Antioxidants is a pleasantly simple way to add superfoods and antioxidants to your daily regimen.^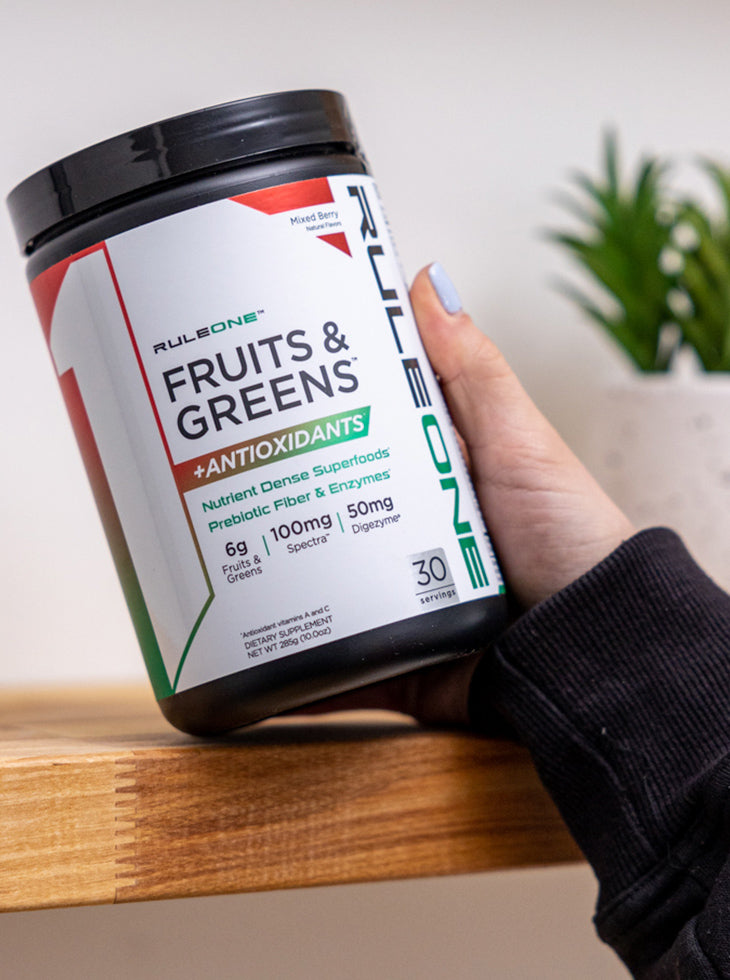 "Great product with amazing taste...would highly recommend!"
- Justin
R1
Fruits & Greens + Antioxidants
WHAT IT IS
Power-Packed Fruits and Veggies
R1 Fruits & Greens™ + Antioxidants provides an easy way to reap the benefits of nutrient-dense superfoods as part of a well-balanced diet for healthy, active lifestyles.
WHAT'S IN IT
Drink Your Veggies
With over 40 active ingredients, R1 Fruits & Greens™ + Antioxidants provides a comprehensive blend of phytonutrients without artificial flavors, stimulants, or added sugars.
Includes over 40 active ingredients
6g fruit and vegetable concentrates†
100mg Spectra™ Total ORAC blend†
2g prebiotic fiber†
Antioxidant vitamins A & C
50mg DigeZyme* digestive enzyme blend†
Naturally flavored, stevia sweetened

These statements have not been evaluated by the Food and Drug Administration. This product is not intended to diagnose, treat, cure, or prevent any disease.
† Per serving
HOW TO USE IT
Anytime
Because it contains no stimulants, R1 Fruits & Greens™ + Antioxidants can be used any time, day or night.
Mixing Directions
Mix one (1) scoop with 10 oz. of cold water.
Definitely love it
I have try different brand of greens and I can say this is the best of all. The taste and the consistency its awesome. Others have chalky taste and a thick consistency hard to swallow. Its my 4th can and Im definitely continue with this product. Love it!!!!!
Love this stuff
I live a pretty hectic busy life and when I don't always get my fruits and greens in, this stuff always gets me right! Love the way it makes me feel and definitely cleans me right out lol
Definitely recommend!!
Combine this with R1 collagen and creatine to start the day - BOOM
I live off this stuff please get it back in stock!
Best Greens Ever
I've had plenty of greens and red supplements in my years of training and I can honestly say I love not only the taste of this supplement, but the performance on it! The blend, taste profile, and consistency is on point
GUT CHECK!!!
I am guilty of having regularity issues...i have tried a few other 'Greens' before and they did not taste great and just didn't help! when i tried these i was in shock! The taste is on point which makes it easy and something i now look forward to every morning and them adding the antioxidants has helped me be more regular than ever!! I stack up on these babys to make sure i never run out!
Frequently Bought Together