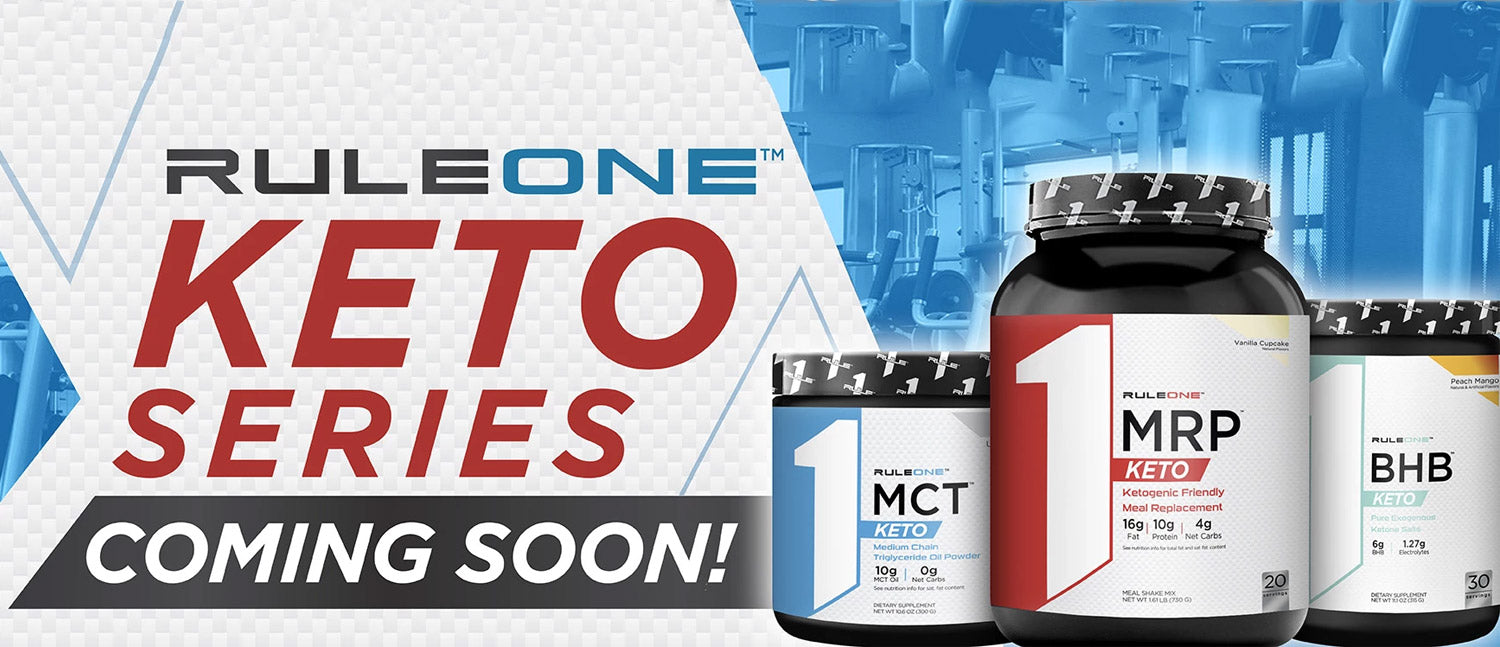 RULE 1 launches Pro-Level Keto Line
New product range includes carb-restricted meal shakes, exogenous ketoneelectrolyte salts, and medium chain triglyceride oil powder
Rule 1 Proteins™ is proud to introduce a line of powdered beverage and supplement mixes specifically designed for individuals following "keto" diets and other low-carbohydrate eating plans.
The new assortment consists of three products and five SKUs:
R1 MRP KETO
R1 MRP Keto is a rich meal shake comprised of quality fats and premium proteins. Each satisfying serving mixes up instantly and derives roughly 70% of its energy (calories) from lipids, 20% from proteins, and less than 10% from carbohydrates to adhere with the macronutrient ratios required for ketosis. R1 MRP Keto is available in delicious natural Milk Chocolate and Vanilla Cupcake flavors, both of which contain 20 servings and 5 grams of net carbs, or fewer, per shake.
R1 BHB KETO
R1 BHB Keto is made with goBHB® ketones – a direct, carb-free energy source to help fuel mind and muscle performance. A single scoop provides 6 grams of exogenous ketones from a combination of three different goBHB® salts, plus 1,270 milligrams of electrolytes to replenish lost minerals. Look for R1 BHB Keto in 30-serving containers of naturally flavored Blue Razz Lemonade and Peach Mango.
R1 MCT KETO
R1 MCT Keto is made entirely from pure coconut oil and keto-friendly acacia gum
fiber. Every serving contains 10 grams of energy-rich oil powder, providing 7 grams of pure medium chain triglycerides (MCT), 3 grams of dietary fiber, and 0 net carbohydrates. R1 MCT Keto is available in 30-serving containers and is free of added flavors or sweeteners to readily incorporate into all of your favorite foods and beverages.