R1 CASEIN
Slow-Release Micellar Casein Formula
Even in our fast-paced world, there are times when it pays to slow down. Take between meals and bedtime for example. During these occasions you want a protein that takes its time. Something to hold you over until your next meal. A protein that breaks down more slowly, delivering its amino acids over several hours. R1 Casein is what you're after.
ZERO Non-Casein Proteins
ZERO Creamers
ZERO Spiking
ZERO Fillers
R1 CASEIN BETTER INPUTS
Slow-Release Micellar Casein Formula
25 g slow-release protein*
Premium micellar casein
Amino acid delivery for up to 8 hours.
Thick satisfying texture.
Naturally-rich in all essential amino acids (EAAs) u
Carefully blended and packaged in an NSF GMP facility in the USA
* Per serving. u Amino acids are naturally occurring and approximated.
Directions
Tasty Shakes: Mix one heaping scoop if R1 Casein™ with approx. 10-12 of water, milk or your favorite beverage in a shaker cup or glass with a spoon.
Juice Smoothies: Add your favorite fruit and ice to the above, mix in blender and enjoy!
Allergen Information
contains Milk, Soy and Wheat.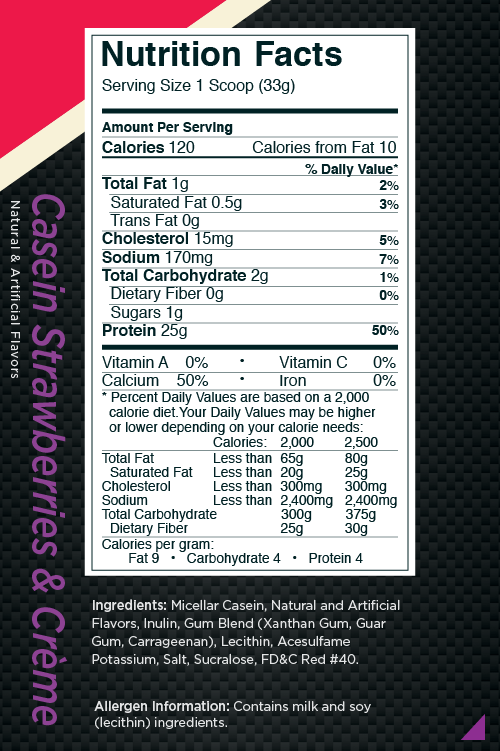 What is the difference between whey and casein?
Both whey and casein are highly nutritious proteins derived from milk. Whey proteins have a thin consistency and are rapidly digested and absorbed, which makes whey beneficial around workouts. Casein proteins are thicker and take longer to be broken down. Casein tends to be more filling than whey and is commonly used at night or between meals.
When are the best times to use R1 Casein?
s a slower digesting protein R1 Casein works well between meals and at bedtime when more sustained amino acid delivery is desired.
Is R1 Casein a good substitute for R1 Protein or R1 Whey Blend?
R1 Casein works best in conjunction with a fast acting source like R1 Protein or R1 Whey Blend. Use R1 Protein or R1 Blend during the day and take R1 Casein before going to bed to help feed your muscles while you sleep.
10 Reviews
Great thick mixing protein and really good flavor. I had the salted Carmel.

Best protein I've ever had.

I got the lightly salted caramel, and it's the best casein (or whey) I've ever had. Been getting it for months now, and am buying it in the largest barrels they sell at this point. It's just so good, and very clean.

Tasty flavor and it mixes very easy. Thumps up!

Great taste and mixes well with water or milk. Just started using it and helping with my hunger in between meals. Feel I rebound nicely after a workout. Still need to lose 50lbs but am on the way.

Good but get a different flavor

I think the protein is working well, but I'm not a big fan of the chocolate peanut butter. I'd get a different flavor

Good flavor. Not too overpowering

I mix this with a little milk at night and it tastes like dessert.

Amazing taste, mixes well with water as well as with milk. Lightly salted caramel is a flavor worth giving a look at!

Great texture and taste for a casein protein. Really stays with you for a long time and gives you the support needed after hard workouts.